We are excited to showcase Corporate member Singer Electric, a forward-thinking industry leader in smart electrification!
Singer Electric has been operating since 1953 as a New Zealand-owned electrical contracting company. Recognising the opportunity and necessity for decarbonised transport  and large-scale sustainable energy management solutions, Singer has evolved to become experts in the smart electrification space.
With a holistic approach, Singer Electric delivers high-calibre services across e-mobility, energy management and solar generation for residential, commercial and public sector customers. They excel in large-scale commercial installations and employ smart electrification technologies, such as IoT, to efficiently manage electrical grids and products.
Singer's expertise makes sustainable electrification accessible and straightforward for all New Zealanders, whether they're fitting out a CBD skyscraper or installing a smart EV charger in your garage.
Future-focused industry leadership
Singer Electric is the trusted NZ value provider for global EV charging heavyweight ABB across all commercial, public sector and home installations. They are the preferred electrification partner for several Government agencies and large corporations, and have recently established a partnership with Ford NZ as their national EV charging installer.
When it comes to their residential customers, Singer Electric ensures safe, convenient, long-lasting home charging solutions. By partnering with ABB (also a DE Corporate Member), they can offer top quality chargers that integrate seamlessly with smart home systems, providing safety features, peace of mind and indisputable value for money.
Why partner with ABB?
As a global brand, ABB partners with reputable local charger installers to be their 'boots on the ground'. With ABB's high-end products, Singer is able to execute their installations with confidence, knowing that quality, safety and reliability is paramount for both companies. 
The Terra AC Wallbox: Electrifyingly easy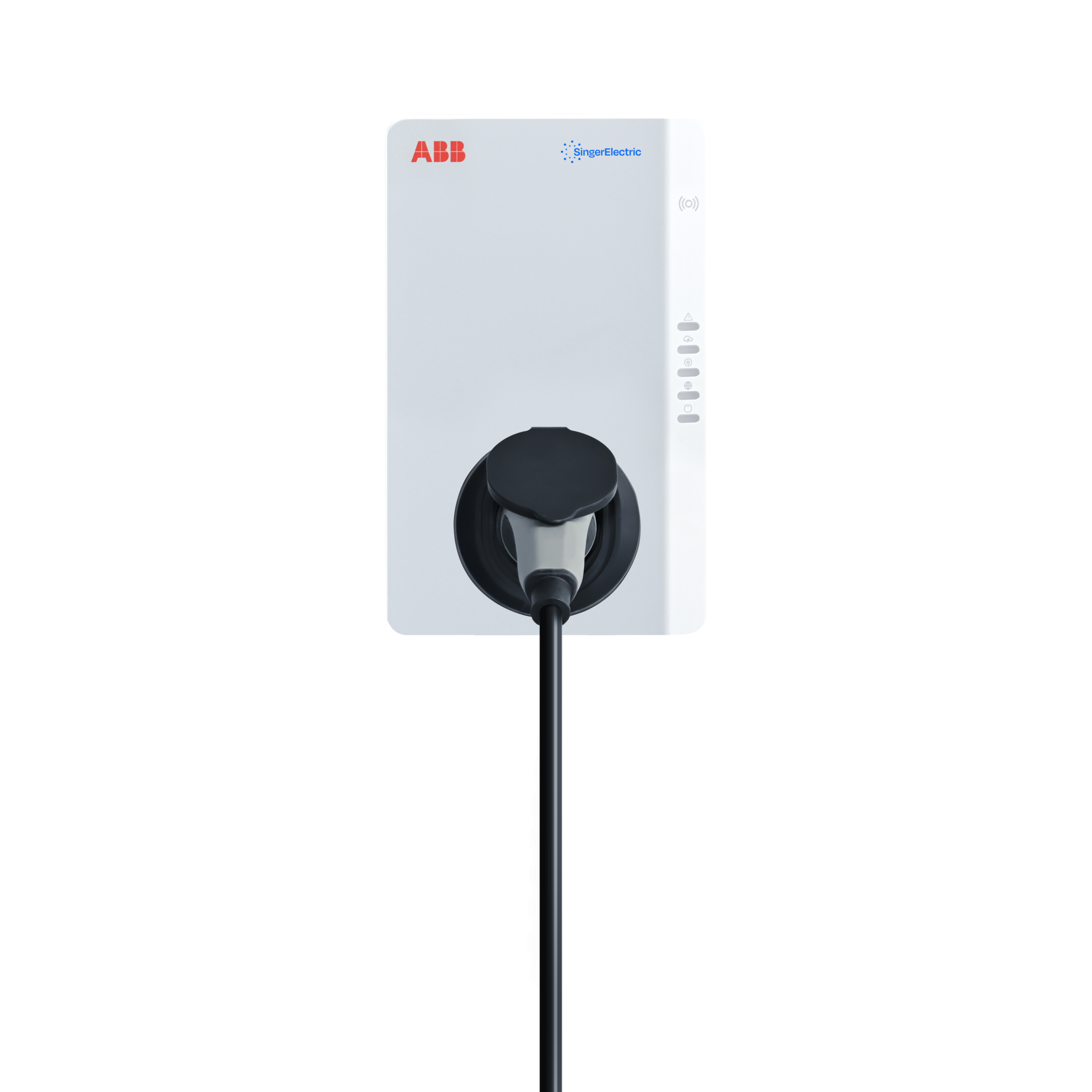 One standout product offered by Singer Electric is the ABB Terra AC Wallbox. The cutting-edge features of the Terra set the industry benchmark for home chargers:

Power, speed and convenience
The Terra AC charger is four times faster than a standard 3-pin plug. The average driving distance in NZ is between 30 and 35 kilometres a day; this wall charger can cover that in less than an hour! With an effective home charger, you'll never have to wait in queues or switch between multiple apps for public charging.
Smart charging and cloud connectivity
This wallbox comes with all the components needed for smart home integration. The ChargerSync app enables you to capitalise on times when energy rates are low, so you can reduce the cost of your charge and minimise your impact on the electrical grid. You can use the Terra to turn your EV into a backup battery for your home; vehicle-to-grid functionality is also in development and will be rolled out via cloud updates in future.
The Terra is compatible with all EV models, so you don't need to worry about limitations with your charger when you're thinking about your next vehicle purchase. ABB's ongoing R&D and cloud updates ensure that your charger will not 'age out'; you can continue to enjoy up-to-date tech without needing to replace the charging unit!
Safe for you and your car
Safety is a core principle for both ABB and Singer Electric. The Terra AC Wallbox undergoes rigorous testing and evaluation by independent safety certification organisations. Singer customers can enjoy full confidence that there will be no detriment to their EV when using their chargers, that installation will be carried out with impeccable attention to detail, and that troubleshooting, maintenance and warranties will be taken care of.
Fill up at home! Take advantage of Singer Electric's fixed price offer
Singer Electric's fixed-price offer for the ABB Terra AC Wallbox is designed to make the home charger installation process as simple for you as possible. For $3499 (inc. GST), customers receive the complete installation of the wallbox unit in their home, a charging lead, access to the ChargeSync app, and comprehensive support along the way. 
It's easy! All you need to do is fill out a booking form to get your Terra AC Wallbox installed within two weeks, or to coincide with your vehicle delivery. 
Learn more about Singer Electric's fixed-price offer here, or head straight to the booking form!
–
Singer Electric sets an excellent example for other Kiwi companies in this space, both in terms of their EV offering and in their holistic approach to smart electrification. We look forward to supporting Singer as they continue to lead the charge with sustainable energy solutions!